Locksmith Richmond Indiana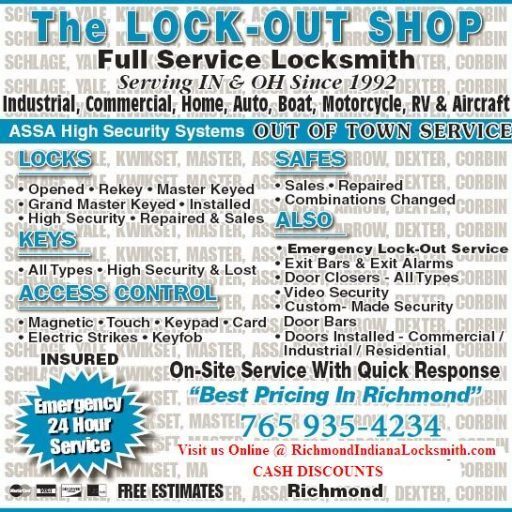 Lock Out Shop
Richmond Indiana Locksmith, Lock Out Shop providing 24 Hr Emergency Service Since 1992    
Are you searching for a local approved Locksmith near you?
 Richmond Indiana Locksmith is a Lock Out Shop Serving Richmond Indiana, Muncie Indiana, New Castle Indiana, Eaton Ohio, Greenville Ohio and surrounding counties for over 24 Years!
We are CRB checked and specializes in ASSA High-Security Lock Systems, Residential Lockouts, Auto Lockouts and Commercial Locksmith Services – make us your first and only call.
What if you just need your Home or Business locks repaired, replaced or even rekeyed to new keys? We can help you with that also. When it comes to rekeying old locks, replacing deadbolts with new ones or solving a lockout situation, you can trust our expertise for the best emergency lockout services.
Feel the need to upgrade to ASSA High-Security Locks or to a Keyless Access or maybe you need Video Security, call our Richmond Indiana Locksmith Security Consultants at 765 935-4234 for all your Security needs.
Aside from helping with all your lock, video, or security needs. We do ASSA padlock demos. We also install doors and do custom security door bars for commercial metal doors. If you're looking for a video security system, Our cameras can record images in total darkness from up to 60 ft away and you can view your cameras from your computer at home or your office, and even view from your phone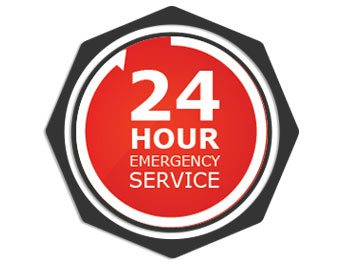 We are your one-stop shop for a keyless access system, installing everything from card swipe systems, to biometric fingerprint systems, electric strikes, touch sense bars, keypads and key fobs.
We keep our Our Mobile Locksmith solutions very affordable as any car owner may experience this.
Our installation service and sale prices for door closers of all types is second to none. If you also lost the combination to your safe or need the combination on your safe change. We do safe sales and repairs of all types.
At our Lockout Shop, Fast Friendly Professional Service is guaranteed here.
We are locally owned and operated since 1992.
Call us today!
Visit our Google+ page at   https://plus.google.com/+Richmondindianalocksmithlockoutshop
Or our Facebook page at https://www.facebook.com/Lock-Out-Shop-234419409968251/
Lock Out Shop 
Richmond Indiana
47374
765 935-4234
lockoutshop@gmail.com
24-hour locksmith Richmond Indiana|
Locksmiths in Richmond Indiana|Locksmith Richmond Indiana | Locksmith Muncie Indiana | Locksmith Eaton Ohio | Locksmith New Castle Indiana | Locksmith Dayton Ohio | Locksmith Greenville Ohio | Lockout Locksmith | Lockout Services | Auto Locksmith | Emergency Locksmith | Richmond Locksmith | Commercial Locksmith Services | locksmith near me | Richmond Indiana